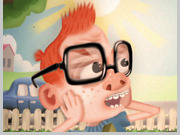 Head Gear Had four spots screen in competition at this year's Ottawa International Animation Festival.
Three spots are from the Oreo Cakesters campaign, UFO, Scientist, and Magnifying Glass. The fourth Spot is a Milk Dots Compilation. The Festival took place September 21-25, 2011.
Head Gear's Director and Animator Isaac King, also has his Short Film 'Second Hand' Screening at OIAF in the Canadian Showcase.
Filed Under
Directors
Related Projects