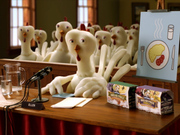 Boards Magazine
New gear, cool head by Stephen Price
Toronto-based Head Gear Animation may have just doubled its studio space to 5,000 square feet, but partners Steve Angel and Julian Grey are taking a sober approach to the recent growth of their five-year-old company. "We've seen a lot of people expand and then croak," says Angel.
On the strength of a solid 60/40 mix of US/Canadian work, split evenly between spots and branding, the multi-disciplinary animation shop is taking over the floor above its current space to accommodate a new custom-built, six-axis motion-control rig. Angel says the setup, powered by software from Kuper, allows his seven Mac-equipped staff to program moves that are precise, subtle, accurate and perfectly repeatable, "so you can do multiple passes animating different elements and composite them seamlessly".
Adding to the rig's versatility is a piece of custom-written code that translates the motion-control data so that it can be integrated with 3D CG animation.
The new gear's maiden flight is for Cartoon Network's Halloween promos, which Angel describes as "a nightmare funhouse ride through Gothic abstract scenarios of horror and dismemberment". He assures us the fear factor of the :60's four cut-downs is offset by a campy overtone.
Also on the boards for the new motion-control gear are stop-motion spots for Breakfree Eggs featuring chickens in group therapy for Roundtable, Toronto, and a still confidential assignment for a major sports network.
Despite the sudden gush of stop-motion work, the shop is "all over the map in terms of technique," Angel insists. "Often people come to us with totally blank slates, and we come up with techniques based on what best sells or promotes their product."
Filed Under
Directors
Related Projects